Can you introduce Maison Mère in a few words? How was the project born?
First of all, it's a place of expression, an urban backdrop against which we want to reveal 'Monsieur et Madame Tout le Monde'; passionate people of all kinds who are out of the ordinary and who are, unfortunately, often passed over in favour of more straightforward subjects.
In addition, Maison Mère is an ode to Parisian life as lived by Parisians, to the Paris that tends to be overlooked by tourists. A Parisian life that is sincere, authentic and natural. Of course, we love the Champs Elysees, Place Vendome and suchlike world-famous attractions, but we prefer the Rue des Martyrs, Pigalle, the Square Montholon… The kinds of places that tell a story and are embodied by, and are an embodiment of, the people who live there.
Finally, we like to say that Maison Mère is a beautiful house amongst beautiful houses. Our ethos is expressed by the artisans, artists and other creative talents that we highlight.
Who is Maison Mère intended for?
Maison Mère is a medium that is aimed at Parisians who love their city but want to discover another facet of it. But that's not all. It's also intended for those who are unfamiliar with Paris and dream of discovering the city through the eyes of a local.
Beyond Paris, in short, Maison Mère is a medium for the curious who want to discover beautiful personalities, to listen to beautiful stories and are interested in a variety of subjects.
Can you tell us about a person who inspires you every day?
He's not a public figure, but he inspires me from day to day. It's my grandfather. He was born into a disadvantaged family in the countryside on the border between Algeria and Tunisia. He always followed his passions, never listening to the nay-sayers who didn't believe in his ideas. He ended up heading a cinema chain in North Africa, as well as factories, hotels in Europe and more. I try to walk in his footsteps and always believe in my projects.
Family is an important concept that forms the foundation of this project. Can you tell us more?
Maison Mère can be described as a family adventure since I embarked on the project with my brother Walid, with whom I have a long-standing close relationship. We wanted to breathe the concept of family into the project by focusing to a significant extent on community and sharing. There is no clear separation between the audience and the talents who contribute to our topics; everyone is a part of the MM Family! Maison Mère can be understood as a household embodied by the dynamic, inspiring, vibrant interactions that are a part of family mealtimes. People coming together and sharing a communal experience.
Would you like to share your favourite things with us? Your artistic or artisanal discovery of the moment?
I recently discovered the work of a friend, Mathilde Brunelet, who is a brilliant artist who does both painting and illustration. I really wanted to do something in partnership with her and so she joined the Maison Mère project to work on our illustrations and our graphic universe.
I also came across the work of a young entrepreneur, Lola Pacchioni, who opted to embark on the creation of stunning, completely psychedelic giant silk squares. Mathilde has just drawn one of her squares. It's a beautiful Made in France enterprise she has started, and I would very much like us to collaborate again in the future!
We've also talked a lot about Paris and your wish to highlight a new facet of the city with Maison Mère. Any good addresses you'd like to share?
There are so many places you can discover during walks that I cannot even name them all. For example, I spent this morning in the 1st arrondissement in front of the Express bar, which is something of a legendary place. The boss is a true personality who has been a part of the world of nightlife for years. He's someone who loves life, community and his customers, who drinks a drink when he serves one. People come to this bar, which is not exceptional in itself, for this unique character. It's the type of place that is not obviously special, but which has a welcoming charm all its own. I like that.
And finally, a little cultural recommendation; what book are you reading right now?
The book I recently bought is Yuval Noah Harari's Sapiens: A Brief History of Humankind. It's a reflection on human evolution from its beginnings to today. Otherwise, one of my favourite books is Paolo Coelho's The Alchemist, an allegorical novel that tells the story of a man who travels the world in search of treasure.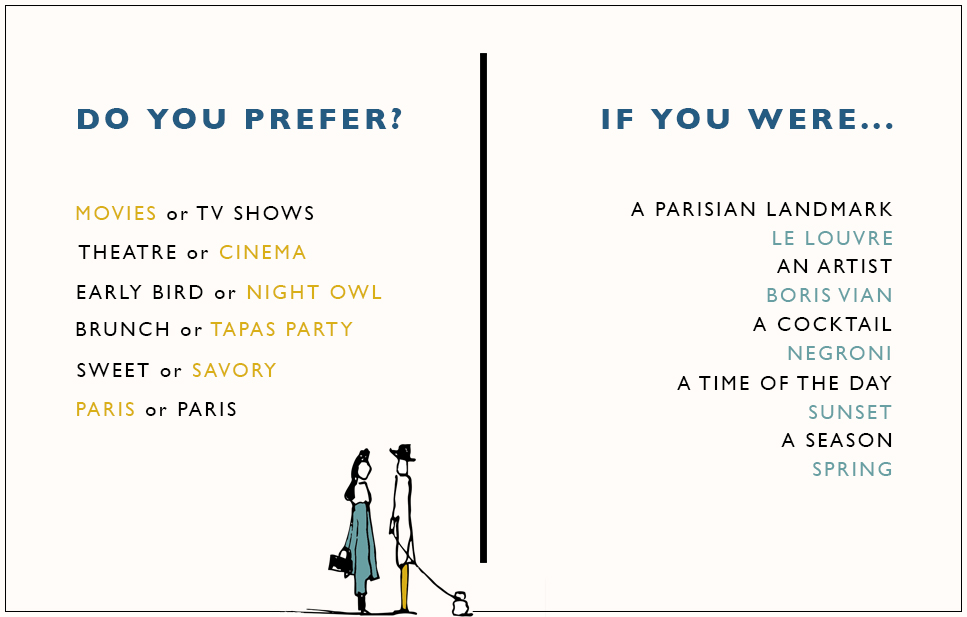 Maison Mère